Sleeping Straight Surfer Preston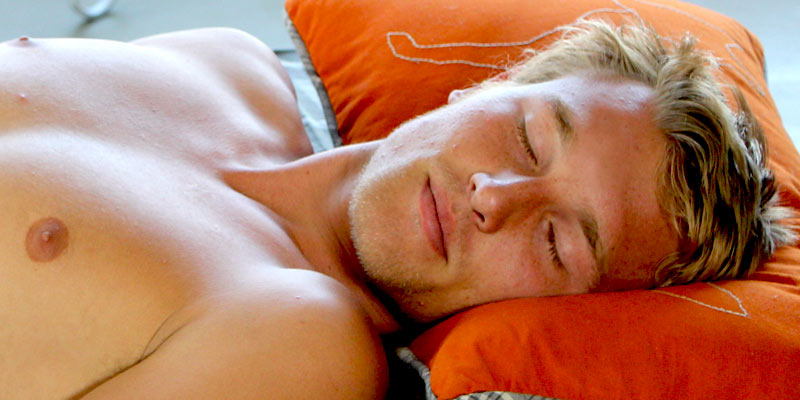 Hot spring mornings are the best, because anything can happen, it's just that time of year, you know? Therefore, I was not surprised to get a call from my good friend Enzoz, telling me to get to my downtown "flophouse" ASAP. He sounded urgent and I knew it had to be something good. I was just back from my morning jog around the neighborhood so I took a quick shower, dressed up, grabbed my handy gear bag and headed downtown.
When I got there, I could understand the reason for Enzoz urgency, turns out he lured in a super hot stoner surfer name Preston. I mean, you know, you have stoner surfers and then you have really hot stoner surfer, and that's where Preston fits in! You will truly appreciate this hot boy in this naughty sleeping seduction! Check it out!
Preston looks outrageously hot sleeping with the red sheets barely covering up his lower body. Enzoz gently glides his hands all over his body, exploring him and at the same time making sure there isn't any particular sensitive area which may cause our subject to wake up in the middle of the seduction. He strokes the bulge beginning to pop under the covers and he can feel his cock getting hard and big, we have morning wood, baby! Enzoz pulls the covers down his lower body and Preston's in his boxers. Slipping him off them will be a little bit of a challenge, but, hey, I'm already a pro at this and I will be guiding Enzoz along.
He plays with his member over the garment for a bit, it's throbbing hard already and I can imagine how big it will get once freed. We get him naked and after admiring his body Enzoz starts teasing his dick, stroking it with soft up and down motions that keep that erection nice and big for the camera.  I enjoy watching him lick that big dick and finally pop it in his mouth, and he gives Preston a blowjob that will make him blow his load any time now! There he cums! Preston shoots thick wads of pearly jizz that spray all over his naked body, after which we cover him up again and let him finish his beauty sleep!
I hope you enjoy him