Sleeping Commercial Diver: Miller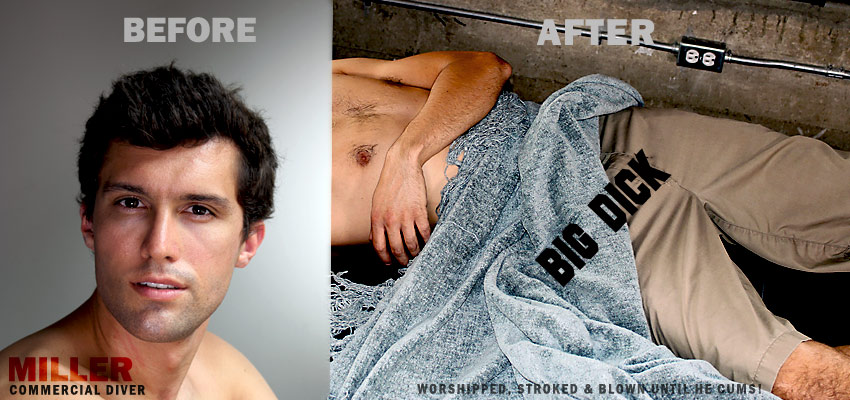 Miller is a hot and handsome straight commercial diver and I met his at the dock this past weekend,while I was checking out some new scuba diving spots with my good friend and sleeping seduction accomplice Enzoz. As it turns out, Enzoz had already talked with him a couple of times, and I soon found out that Miller was interested in expanding his clientele, and what better way than with some great advertising in social networks, but for that, he needed some good pictures, and I offered to take them for him if he passed by the studio. He was more than happy to do so, and even agreed to stay over after our shooting session, the perfect opportunity for Enzoz and me to seduce this straight commercial diver in his sleep and dive head first into his big, hard, juicy cock!
Finally my buddy Enzoz can get his hands on Miller's super sexy, virile body! He's got big pecs and chiseled arms, the body of a diver and a sea god! He stimulates his nipples and feels the way they get hard between his fingers and I can just imagine how hard his cock will get once he starts to play with it. He has hairy legs and he's in his shorts, but when my pal finally manages to slide them off his body, I'm rewarded by the view of a magnificent erection. He's got a beautiful hard cock, big balls and a dark hairy patch of pubic hair.
His cock is throbbing and he's cut. As my friend takes it in his hands and strokes it, precum begins to pour from its tip, dripping over his belly. So sexy! He masturbates Miller in his sleep, caressing his balls and perineum. Enzoz grabs his hard shaft by the base and guides it to his open mouth, deepthroating Miller's hard-on and I'm amazed at just how thick this dude's cock is. His cock sucking skills are paying off, because by the way Miller has his legs spread and how fast and intense he's breathing I know he's going to cum and I bet it's going to be one hell of a load! I'm right! Miller blows a massive load of hot cum that blasts all over his naked body!