Straight Rocker James Gagme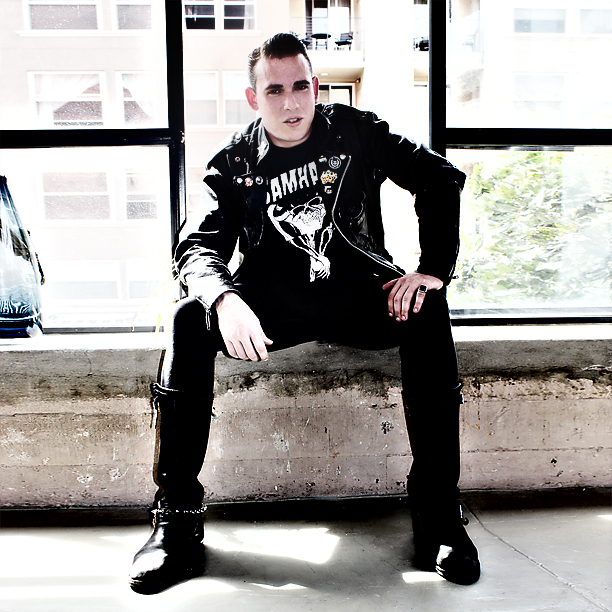 Yeah, you can tell by the looks and the attitude that James Gagme is a hard rocker, lead singer in a rock and roll band and living the rock and roll lifestyle to the fullest! I met him a week ago, as his band rolled into town in a van and played a local bar. Unfortunately, they got screwed by the band owner and James found himself with nowhere to sleep! I kindly offered him a place to crash at my studio; of course I wasn't going to a rock star out of my sleeping seduction radar!
We stayed up late drinking, talking about rock and roll bands we both liked and listening to my pretty awesome vinyl collection, so I was not surprised to find James still sleeping early morning. Noticing he wouldn't wake up no matter how hard I tried, I decided to let him sleep and set my gear up for some sleeping fun!
James has a hot, sexy body with hardly any body hair and lots of cool tattoos. I caress his arms and chest, slowly moving down south and getting rid of the covers. He already has a nice erection going on, as if he had a mic hidden under the sheets! His morning wood has to be rocking! I finally pull the sheets down and he has nice hairy legs and a thick dick. His balls are hanging low and I take my time playing with them as his dick gets bigger and harder. He's cut and I get to suck his delicious cock while stroking it slowly, no need to rush at all.
I feel his breathing getting heavier and the first spasms as he passes the point of no return and his cock starts spurting out generous wads of hot, creamy cum that splatter all over his naked body! It's not every day that you get to see a sleeping rock star blow his load, baby!
CLICK HERE TO SUBSCRIBE & GET MORE PICS, THE WHOLE STORY & VIDEO!