Straight Golf Caddy Nelson Baker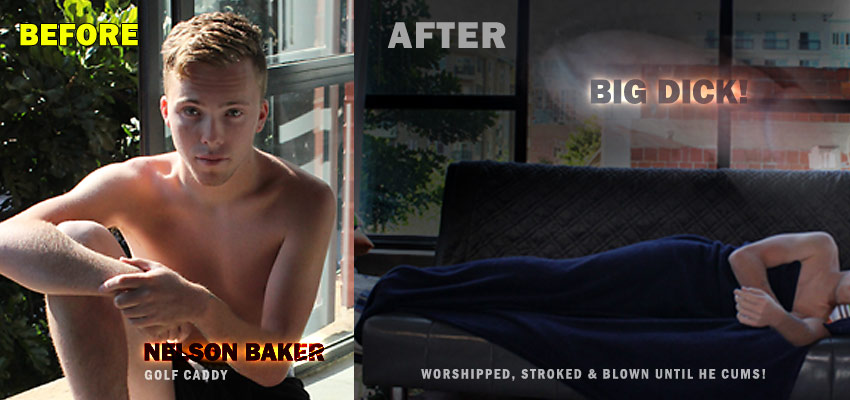 Check out hot straight stud muffin Nelson Baker, this handsome blonde is a golf caddy and I met him a few weeks ago while playing a few holes with some friends. We hit it off and he told me that as much as he enjoyed being a caddy, his main goal is to become a model and he hoped his current gig could serve as a stepping board to better things. Hey, the kid's got the look, and when I told him I was in the business and I'd be happy to update his portfolio with some new head shots he agreed to come over to my studio later on. Of course when he finally called up, I had everything ready for an astonishing sleeping seduction!
Nelson's Saturday shift ended rather late and since he had the next day off, we stayed up until the crack of dawn taking his head shots and updating his portfolio. By the end of the session we were both beat and I invited him to crash at the guest couch. The sun was up a couple of hours later and Nelson was still asleep as I set up my gear and got this sleeping seduction going. Nelson has a big, thick, beautiful cut cock and big balls, surrounded by a wild patch of golden pubes. Of course I played with his body, caressing his arms, head, torso and legs as I made my way through the covers and his boxers. His cock reacted spontaneously to my touch and as I jerked him off, it got bigger and harder in my hands. His morning wood was as good as a trusty golf club, lol! I could already see the first droplets of precum oozing form the tip of his dick and I gave him some head to lube him up and stroke his cock some more.
In his sleep, the straight golf caddy seemed to enjoy a slow, sensual handjob and the moment I let go of his throbbing erection, he blew a thick load of hot fresh cum all over his cock, balls and lap! Hole in one baby!