Straight Freshman Tyler North Returns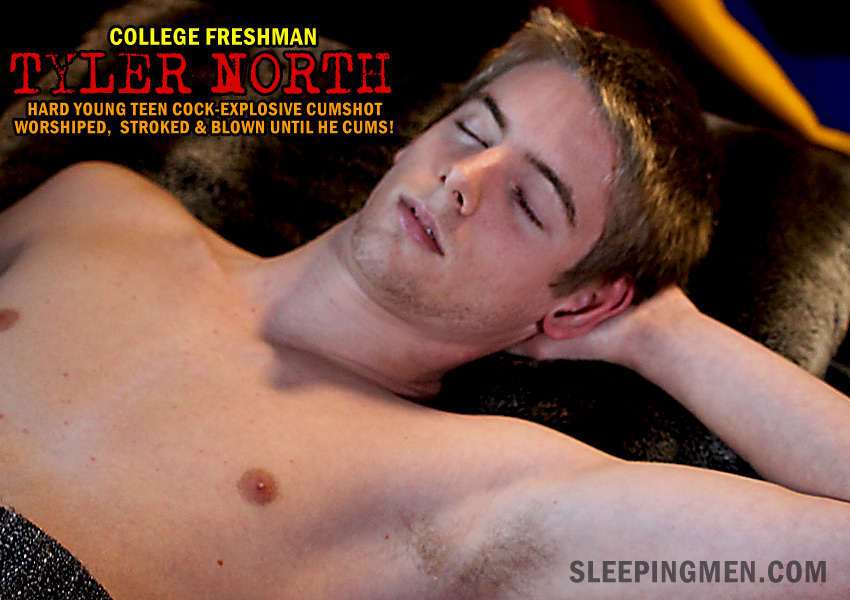 Straight college freshman Tyler North is back! I met Tyler several months ago thanks to our mutual friend Tate. Tyler had gotten screwed on the head shots for his fraternity website by a crappy photo studio and Tate brought him to my place. Tyler left my place the next day a satisfied customer, he had his headshots under his arm and I had an amazing sleeping seduction on tape in my hands! He called me up a couple of days ago and invited me to the local pub for some drinks. We had so much fun watching sports, drinking and talking we hardly noticed how late it got. Tyler asked if I could give him a drive to the bus stop, he had a 2 hour bus ride back home. Forget about it, I told him to crash at my studio. You can imagine what would happen next… right?
Tyler crashed on the couch and based on our previous seduction, things can only get better this second time around! He has a nice, hairless chest and soft arms and as I caress him, I can see his morning wood throbbing hard underneath the covers. I rub and massage his package over the fabric of the sheets and feel it getting big and hard in my hands. I entertain myself with his legs and feet before removing the sheets and figuring out the challenge of getting him out of his checkered boxers.
I pull his sexy balls from the leg opening of the boxers and use the crotch opening to release his fat dick and stroke it. I slowly, gently and very carefully pull down the boxers until I manage to get them off his body and I have this straight stud finally naked in my studio for the second time! Masturbating him is a treat; this guy's hard cock is so hot to play with. You just wanna jerk him off, stroke his shaft and rub his balls all day long, but you know he's gonna cum at some point! Tyler actually cums pretty hard, taking me by surprise and blasting hot cum all over his dick and my hands! Hey, it's fun to get messy with a straight stud like him!