Straight Freshman Tyler North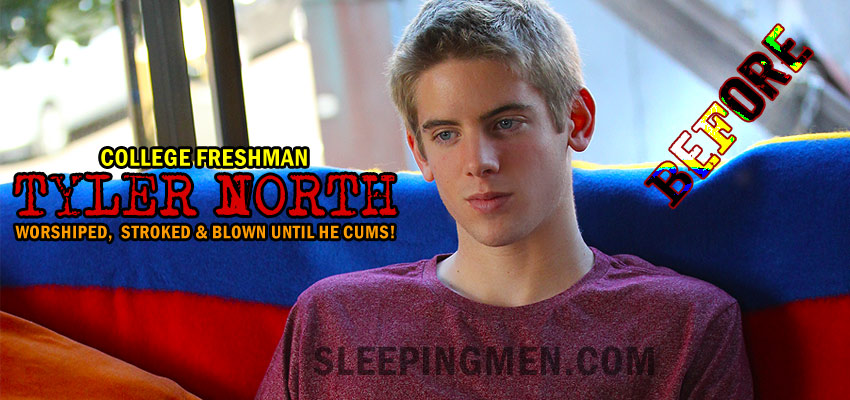 I met straight college freshman Tyler North when he was introduced to me by our mutual friend Tate. Tyler needed some head shots done for his fraternity website and the studio he went do did a half assed job, so Tate recommended he come over to my place. He was surprisingly chilled out and easy talk to, and I made sure to get him some awesome headshots that would get him into his fraternity, no questions asked, lol! Usually guys this laid back are stoners but Tyler is sharp as a tack and has a good head on his shoulders, which made him more of a thrill to seduce while sleeping! Of course, first I had to lure him in, so I had him over again earlier today to look for his headshots and well, one thing led to the other and after working some magic, I had him ready and set up for a fantastic sleeping seduction!
Tyler fell asleep on the couch totally naked and with a throw covering his lower body, and as I rubbed his crotch over the throw, I could feel his bulge getting g big and hard. I managed to get across the throw and his boxers without him waking up on me, retrieving his big cut cock and stroking it into full erection. It was one big, hard, beautiful dick! Tyler´s cumshot was one of the hottest I had seen in a long time, I let go of his dick and it kept throbbing and after a few seconds it released some crystal clear pre-cum, followed by a sexy dribble of pearly cum. It wasn't a blast, it was more like a gentle stream of cum pouring, too fucking hot!