Sleeping Surfer Colton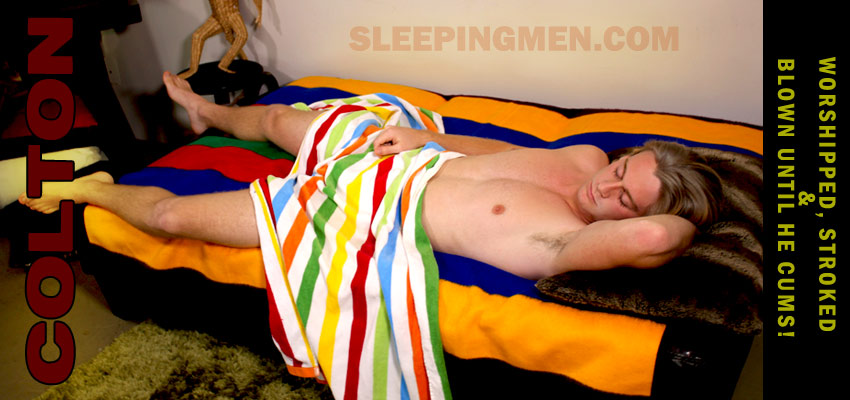 Summer is just on it's way in and I couldn't resist heading out to the Cliffs and checking out the hot local surfers getting their first taste of the waves during summer break. Colton was on the beach drinking beer with a sore foot the waves mangled a bit. I started a conversation and we hit it up pretty well. Soon enough he was at my studio taking headshots.
What a treat! A sexy, masculine, hairless, straight surfer stud with a hard-on inducing body sleeping in my studio with nothing more than a colorful striped sheet covering his nudity! Colton is hot, blonde, surfer jack-off material, baby! We stayed up late shooting his headshots and watched some surfer videos afterwards, chased by multiple Jaggermeister shots! Colton's still slumbering the next morning but I'm all set up and ready to film his sleeping seduction. I caress his chest, nipples and belly, slowly and carefully moving down south and underneath the sheets that cover his hot straight surfer body.
I play around with his legs and feet, experience has shown me two very important aspects of a sleeping seduction: 1) If a guy doesn't wake up while you touch his feet, he probably won't wake up while you tease his dick and more importantly, 2) If he does wake up, it's much less awkward being caught with your hands on his feet than on his dick! Colton already pitched a tent under the sheets and I rub his throbbing bulge, pulling the sheets aside so I can jerk his luscious erection. I masturbate him and lick the tip of his dick, tasting his salty pre-cum and feeling him closer and closer to that delicious point of no return. Colton's body spasms and his sweet cum pours out, ejected powerfully by his prostate and splattering all over his sexy naked body! This surfer can cum, baby!