Sleeping Skateboarder Alvin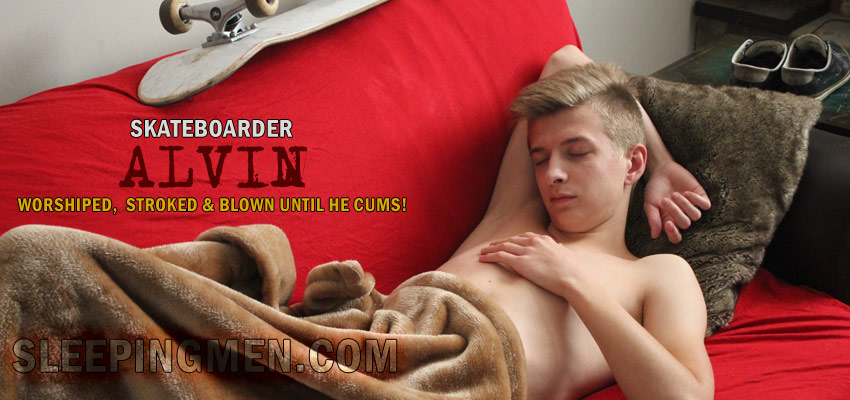 Where's Enzoz? Well, he's back, in case you were missing him. He made friends with this cool, laid back skateboarder buddyof Kurt's and had him come by one morning after an all nighter. You know, those all night long parties lend themselves to excellent post party sleeping seductions! This is Enzoz's first video, well, obviously not his first, but the first filmed completely on his own. Alvin is a very talented, but low key, skateboarder, but as you will see, while he likes to keep his profile low, his big, hard dick has a mind of its own!
Alvin is sleeping on the couch, with his skateboard right next to him, now that's passion! Enzoz caresses his slender body and gets rid of the throw covering him, but he still has to make his way through his gym pants and boxers before gaining access to his hard rod. After managing to take his pants off, he opts for using the crotch opening on the boxer to retrieve his cock and stroke it into erection. It's a nice piece of dick too! Alvin doesn't seem ready to get up (unlike his dick) anytime soon, so Enzoz slips his boxers off and once totally naked, concentrates on masturbating the straight skateboarder. His dick is uncut and his balls are shaved and tight. Enzoz sucks his throbbing cock, and Alvin blows his heavy load with his friend's tongue stimulating his frenulum, fucking hot! Before letting him finish his nap, Enzoz makes sure to clean up all the excess spunk from Alvin's delicious cock!