Sleeping Jock Kurt Taylor II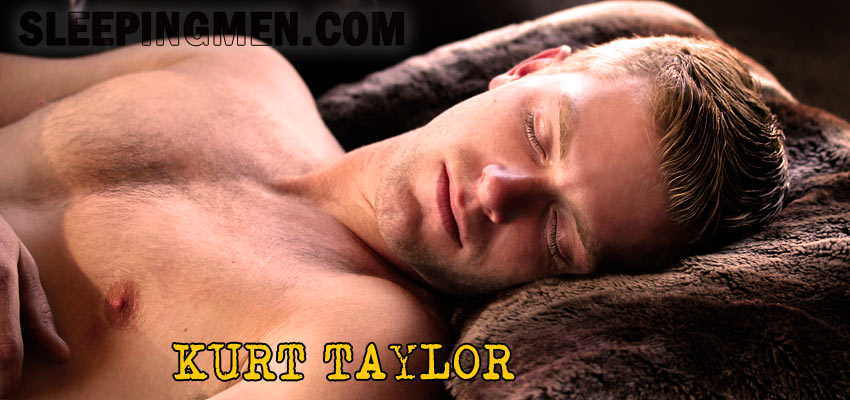 A couple of days after hanging out at the studio and getting his first sleeping seduction, straight swim instructor Kurt Taylor gave me a call! He was wondering if I could help him out with some head shots of him, an idea that came from his girlfriend,who considers he has model potential. Now, that's a smart girl, she's a keeper, Kurt! I agreed 110% and told him to pass by later at night. The whole time I was shooting him I couldn't help but remember how his huge cock felt in my hand last time he was over and I was hoping I would be able to add a "Part Dos" to his portfolio of sleeping seductions!
The shoot ended late and Kurt agreed to stay over. Sure, he didn't feel like making the long drive back to his place late at night and after having a few drinks, or who knows, maybe he unconsciously enjoyed his last stay over! I found him still sleeping the next morning and decided to give that second sleeping seduction a go. I caressed his sexy body and played with his soft skin and tender nipples, making sure he didn't wake up. All seemed clear. I could notice his morning wood was beginning to pitch a tent underneath his shorts, great sign! It felt good having that big, hard, beautiful dick in my hands away and I masturbated him, stroking and jerking his rod until Kurt was ready to cum! He gave me one of those delicious climaxes where the dick doesn't so much spurt as it flows like a gentle stream, what a view! Lots of delicious, pearly, hot cum straight from the "faucet"!
CLICK HERE TO SUBSCRIBE & GET MORE PICS, THE WHOLE STORY & VIDEO!