Sleeping Drummer Damon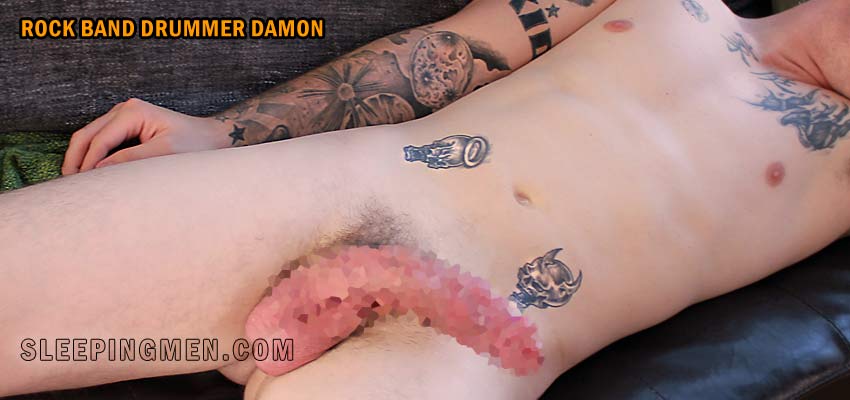 Meet Damon, he's a straight rock band drummer Enzoz saw playing at a local club a couple of times. He plays pretty tight and seems to harbor a pretty big cock beneath his tight rocker denims! A couple of nights ago, Enzoz spotted him playing pool at the bar and befriended him, leading to an invitation to come on over to my studio and chillax! Our new friend Damon had no idea what he was in store for after he closed his eyes, knocked out tired. Our straight drummer's got a nice, lean, hairless body and lots of cool tattoos all over his arms and upper chest. Enzoz passes his hands all over his torso and slowly makes his way down his belly and hairy legs. You can see his dick is already hardening up underneath his shorts and after getting his subject naked, Enzoz gives Damon a much deserved blowjob. His thick dick gets pretty hard and erect, and his breathing intensifies. You can tell Damon is really enjoying this in his sleep! Enzoz masturbates hium, stroking that delicious dick until Damon's ready to blow.
Boy, does he cum hard! That creamy cum splatters all over the couch and his naked body, leaving Enzoz's hands drenched in spunk!
CLICK HERE TO SUBSCRIBE & GET MORE PICS, THE WHOLE STORY & VIDEO!