Ground Technician Kalen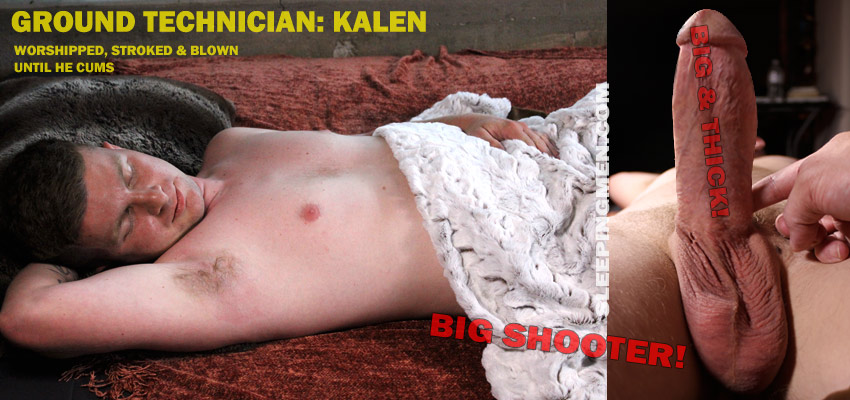 A couple months ago our plane was pulling into the runway and I noticed an average looking ground technician guiding in the plane, but I couldn't help noticing he had a HUGE bulge in his khaki's. My mind quickly diverted back to focusing on getting off the plane and to my destination, only to find out an hour later that my connecting flight was delayed. I headed to the bar and a couple drinks later that same ground technician came in all spiffed up and looking sharp, with that same big bulge in his pants. I struck up a conversation, told him I was a photographer, and if he was ever in town to give me a call. Last week, he did.
Kalen was in town for a couple of days and wondering if he could stay at my place. Turns out he's very interested in modeling and photography and is hoping any of these could be an alternative to eventually move away from the airport runway to the modeling runway. We stayed up pretty late talking about this and that, sharing snacks and beers and he finally crashed on the guest couch and as you guys know, perfect spot of many a sleeping seduction. As always, my trusty sidekick was with me and he was eager to seduce Kalen and get his cock off the ground and flying high! Kalen's not a hairy guy, so my pal played with his armpit hair and tussled with his short hair before moving down his arms and chest.
His lower body and legs are quite hairier and my friend had a good time caressing and rubbing his legs and thighs before concentrating on his crotch area. He began by massaging the bulge formed by his semi erect cock over the blanket covering his body and gradually pulled them up to reveal Kalen's big, hard and cut cock, what a sight, baby! His erection grew in size and hardness as he stroked it, his big balls dangling and you can see by the way his abdomen heaves up and down that he's getting closer and closer to the point of no return! Kalen blew a pretty heavy load, splattering hot cum all over his dick, balls, belly and my friend's hands! The guy was still pleasantly sleeping after we were done with him, cleaned him up and let him finish his nap! Perfection!