Sleeping Wrestler Theo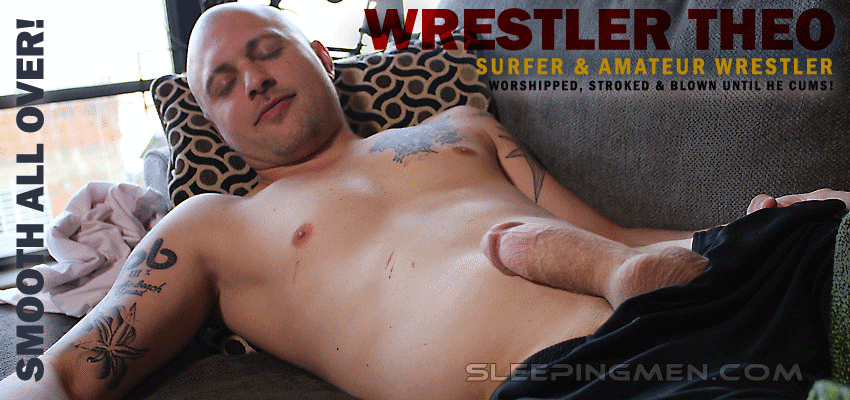 Shaved, tattooed and super studly, Theo is a double threat, an amateur wrestler and a surfer! This guy is as wicked hot on his surf board riding the waves as he is in the squared circle, dropkicking his opponents and making them submit! I checked him out a couple of times at the beach and tried to pick up a conversation, but I kinda got the cold shoulder from him. Hey, you just can't click with everybody, you know? A couple of nights later, my buddies invited me to a local sports gym, where they were putting together a wrestling show, and to my surprise, Theo was there.
He kicked ass and despite my previous awkward encounters, I decided to go ahead and congratulate him. Theo was all smiles and said he recognized me from the beach! As it turns out, surfing gets Theo in the zone, it's his way of meditating, you might say, so he doesn't really let anything else get in at that time, but now he was more than happy to talk about surfing, wrestling and life in general. I talked to him about my studio and said I'd be glad to get some footage of him and maybe shoot a pictorial or two, which would give him great material to market himself. He loved the idea and the very next night he was knocking on my studio door!
Theo was pretty enthusiastic about the shoot and it was way past 4 am by the time we decided to call it a night. I invited him to crash in since he was pretty tired and sleepy and I wouldn't want to worry about him having an accident while driving back the 20 mile trek to his place. He agreed and as he crashed on the couch, I patiently waited for him to fall into a deep slumber but then ….. See the rest of the story, and full video with blowjob and cumshot, in the members area. Please support our site and subscribe 😉