Sleeping Steel Worker Liam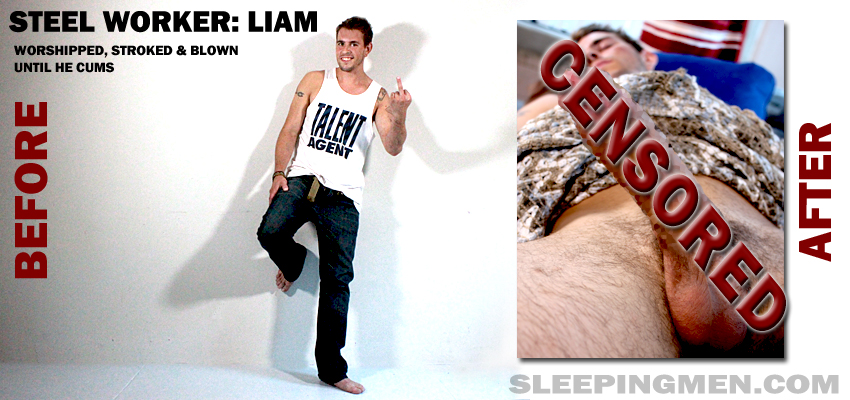 Straight steel worker Liam is a well hung straight guy with an attitude referred for free modeling head shots by one of my best recruiters, a hot blonde college student. She met him on campus, worked her magic and got a hefty recruiting fee, the rest was left to me.
We started off innocently enough by me asking him to show me some of his personality while I snapped photos. Above is a shot that reveals exactly Liams attitude. In the end, I had the last laugh and you get to enjoy this straight guy seduced and see his huge unit revealed as well as his ability to shoot 8 squirts. I hope you enjoy watching him as much as I did filming him!
Liam stayed late for his shoot and accepted my offer to crash in for the night, not knowing he was going to get seduced in his sleep and have his big, hard cock worshipped, stroked and milked! He has several cool tattoos and a drop dead gorgeous body and looks, and after caressing his upper body I could see the bulge forming under the blanket. Our straight guy was pitching a tent! I played with it over the wool blanket, feeling it get bigger and harder in my hands. I lifted the quilt from below to expose his hairy legs, nut sack and cock, he had a gorgeous cut dick already oozing precum and ready to be played with.
I jerked his virile rod and had no trouble getting it big, hard and throbbing in my expert hands. Liam didn't cum fast, so I had plenty of time to enjoy masturbating him in his sleep, and I'm pretty damn sure he was enjoying it too, imagine the kind of wet dreams he must have been having, because when it was his time to blow his load, he came so hard! I counted 8 powerful squirts of hot, creamy spunk that splattered all around the place!