Sleeping Swim Instructor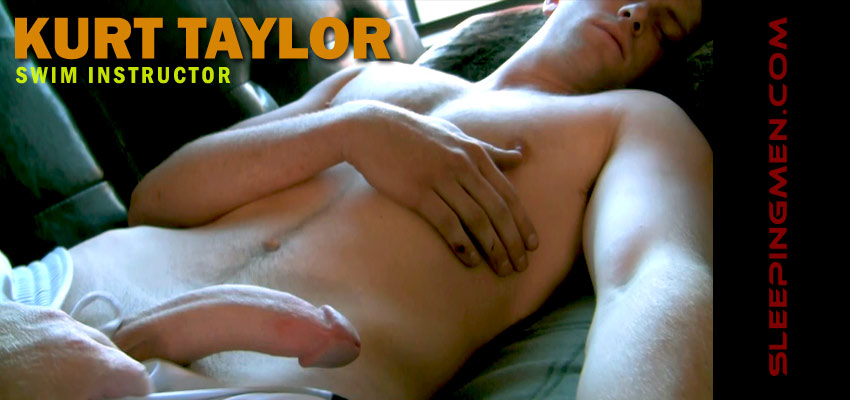 Kurt Taylor is a straight swim instructor and a friend of a friend. Some time ago, he passed by the studio to pick up some stuff from my friend while I was hanging out with Nicholas Adams. We clicked and we seduced him in his sleep that very same night! He gave me a call a few weeks later wondering if I could help him out with some head shots. Turns out his girlfriend, the same honey that suggested he get his original head shots for a potential modeling career, already got him several gigs and suggested some changes. Now Kurt grew a sexy beard and wants to get some new headshots. I can't wait to meet his girlfriend and give her a big hug, so she can keep sending him over for more headshots… and more sleeping seductions!
I told Kurt I was booked solid but I could help him out if we did this late. Yeah, lame excuse to get him to stay over, but it totally worked! We worked late, we drank some, we talked smack, he crashed for the night, I got my stuff set up and BANG! You know what's coming next, baby! It's the crack of dawn, the best time of the day for filming a sexy naked straight stud like Kurt in his sleep. With his hairy chest and scruffy beard, Kurt is at his manliest, hot damn! I caress his body over the covers, poking here and there, those sweet spots that let me know that my subject won't wake up on me in the middle of our seduction. His dick is already throbbing hard under his boxers and I pull them down to expose his massive morning erection and gorgeous balls.
His dick is hard, cut and curved downwards, I begin stroking gently, softly, picking up speed as his body and his cock respond to my stimulation. I lick the tip and taste his precum, a nice blend of sweet and sour. I stroke the shaft while licking the tip, which proves to be a winning formula because in a matter of minutes Kurt is blowing his load and splattering hot, sticky cum all over his body! Way to go Kurt!