ADDED 2.8.15: Sleeping Rookie Luke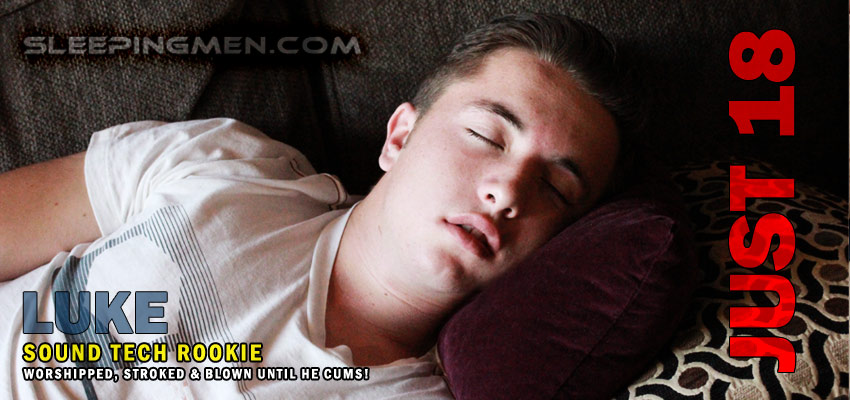 I decided to optimize the studio and add some new audio equipment for editing, but as it turned out, the learning curve to set these up proved to be much higher than I anticipated. Since the company I purchased the equipment from offered tech support, I called them up and after being unable to assist me via phone; they told me they'd send in one of their sound techs. Sounded pretty good to me!
The guy they brought in is called Luke and as it turned out, this was his first day on the job! The guy's a rookie! I could see him going back and forth between the boxes, the equipment and the manual, he seemed totally lost! I panicked, yes, but then Luke showed me that what he lacked in experience he more than made up for with determination! He stayed way past midnight until he made damn sure the equipment was not just set up, but it was set up to PERFECTION! He seemed worried about how to get back home so late, and he was pretty tired, so I offered him to crash in the studio for the night and get a well deserved sleep… and of course, a well deserved sleeping seduction to go along with it!
I waited until sunlight to start filming Luke, slowly caressing his face and upper body to make sure how sensitive he was. This rookie was a first timer getting seduced in his sleep too, so I didn't want to wake him up mid-seduction on the very first day. I rub his bulge over the sheets and I can feel his erection getting bigger and harder in my hands. Luke is proving to be quite the challenge to strip naked, but I manage to pull his hard cock over his boxers.
He's got a beautiful cut cock and big balls and once I manage to pull his boxers down, I slide my fingers up and down his perineum, watching his throbbing member react to the stimulation. I jerk his thick mast and pass my fingertips across the insides of his thighs and after masturbating him several more minutes, Luke blows a thick, heavy load of hot cum that splatters all over his crotch and my hand. Not bad for a rookie!