Sleeping California Surfer Colton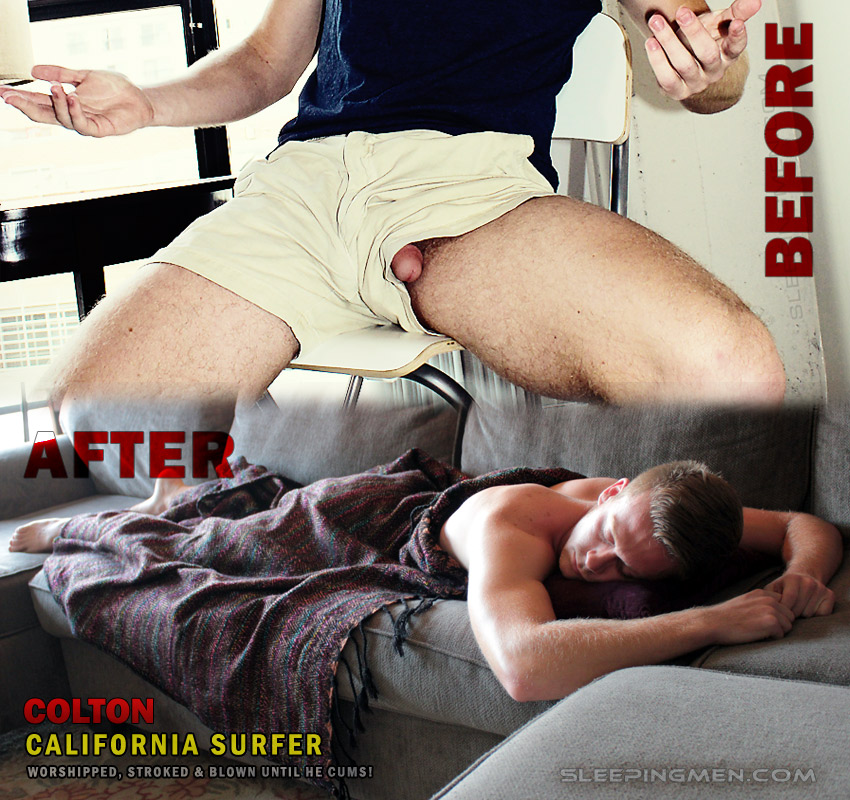 It's been almost a year since I've seen California surfer Colton. Last week the phone rang and it was Colton! He's been busy with school, finished finals, has the summer off and just got back from a quick trip with a friend from school to some place in Virginia called Ashburn. He wanted to stop by and get some shots taken for social media profiles. He still has that amazing body and outgoing sexual charisma that makes you want to rip off all his close smell and taste every inch of his body! He has this sweet musky smell too, the kind where the more you smell, the harder you get, Dillon felt the same way.
After I shot Colton for a while and he got some pics he liked we had a few drinks, he'd had a long day and was a light weight today, wanting to take a nap before heading home. I had texted Dillon earlier and told him I was running late, and not to come by until I texted him. He didn't get the text. Right after Colton knocked out, Dillon knocked on the door! I ran to the door in the hopes he wouldn't wake Colton, and luckily he didn't.
Since my last encounter with Dillon it was clear he might be curious about interacting with a guy, like we had. I was right. I whispered to him that I had a surprise, as Colton lay knocked out on the couch. There's more to the story, Dillon couldn't stay long, and as he left, Preston stopped by. More of that story later, or better yet, watch the video 😉  A big thanks to our members for putting up with us and supporting us all these years. We really appreciate you!