Sleeping Straight Blonde Surfer Ian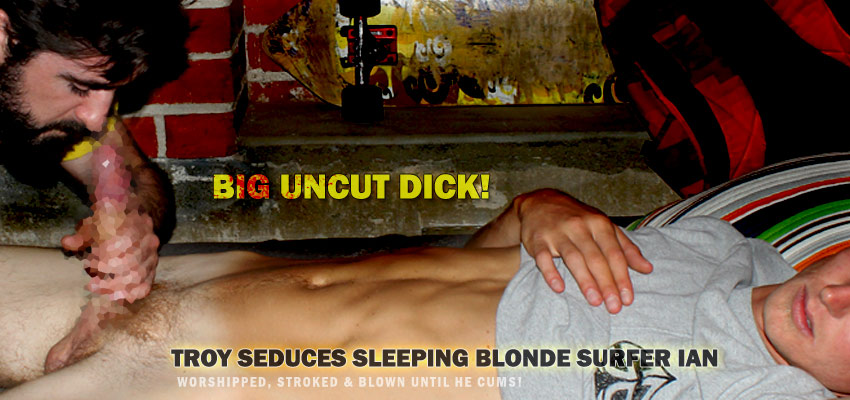 Troys friend Ian is in acting class and wanted to impress this hot girl he likes so he asked Troy film him practicing his lines. Troy asked me to help and we both hatched a plan to seduce Ian in his sleep. You can see from his dialogue that Ian is as straight as they come. After a bit of dialogue on camera the alcohol started to kick in and Ian asked to take a nap. When it was safe Troy got in position and I got the camera. Ian has a long uncut cock and leaks major precum!
Getting him naked was a bit of a challenge, with him moving around and us worrying he would wake up before we could even get this party started, but it all worked out great! Troy stroked and massaged his delicious dick, watching that nice precum build up in the tip and ooze down his shaft, all the way to his big nut sack. Ian was looking pretty relaxed in his sleep as Troy played with him.
Watching him take his dick to his mouth and suck on it was pretty hot too. Troy really went down on his dick, deepthroating it all the way down to the base. It gets even hotter as Troy removed his pants and stroked his burgeoning erection and balls against Ian's. His hands were slippery with each other's precum as those meaty dicks rubbed together, fantastic! Just when you think it couldn't get any better, it did! You see, Ian started to cum with Troy stroking him, and Troy extended his grip so he could jerk both Ian's dick and his own, and started cumming almost in perfect synch with him! Their mixed cum splattered all over Ian's belly, oozing down Troy's cock and over Ian's in a beautiful sticky mess!