FLASHBACK – California Surfer Preston II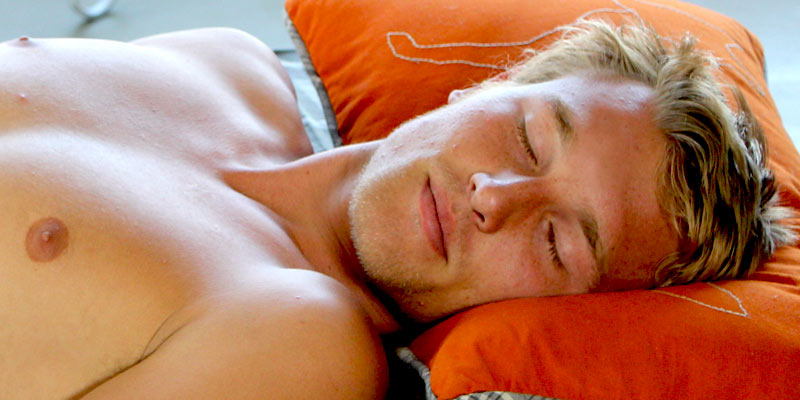 California surfer Preston had already been the subject of a previous sleeping seduction and I was definitely looking forward to a second chance to enjoy that buff surfer body and rock hard erection. Preston is trying to make it big in the local surfing circuits and that means lots of traveling and sponsoring. His travels brought him around town and he stopped by for a visit, an excellent chance to catch up on life in general, share some stories, drink some beers and extend a direct invitation for Preston to stay over for the night, which of course includes an indirect invitation to a sleeping seduction!
Hot blonde straight surfer Preston has fallen asleep a couple of hours ago before I begin this sleeping seduction, helped out by one of my good friends. He begins teasing his fuzzy armpit hair, an excellent way to test a subject's sleep threshold. If he doesn't wake up from that, it's green light, baby, surf's up! He fondles his chest and softly pinches his nipples, feeling them harden up under his fingertips. Although the sheets cover most of his body, his hard cock is already pitching a tent and he goes for it, rubbing and massaging it over the sheets before making his way underneath them.
As he carefully moves them to the side I can see that Preston is sleeping naked, it's a sight to see and it also makes our work much easier. He runs my hands up his inner thighs all the way to his soft balls and growing erection. His balls are hairy and he starts licking them, moving slowly up his shaft, all the way to the tip. My friend gets naked too, his cock is as big and hard now as Preston's, as he sticks his dick in his mouth and goes from blowjob to deepthroat, stuffing Preston's boner all the way down to the base! Preston's breathing intensifies and he moans and grunts in his sleep, visibly turned on by the way his cock is getting sucked and jerked and he blows his load, a massive cum shot that sends hot cum splattering all over his naked, sweat covered body!