18 Year Old Stockboy Rex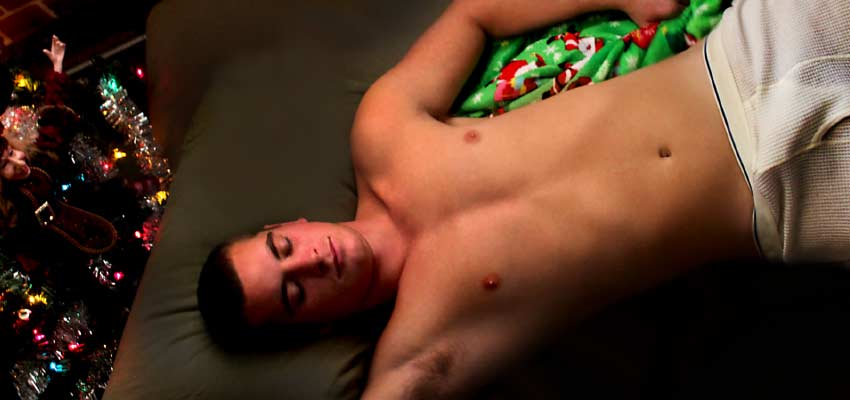 I met Rex just a few weeks before X-Mas, as I was finishing up on my long list of groceries for Christmas Dinner. The place was jam packed and I was having quite a hard time finding some of the stuff I needed or getting any help at all, until I spotted this hot, handsome young man.
Rex went beyond the call of duty with helping me out and we hit it off pretty quick. Turns out Rex is new in town, doesn't have any friends or anything so he doesn't have much to do with his free time, which can really play a number to your head around Holiday Season.
No way was I letting that happen, so I invited him over for dinner that night, and extended him an invite to spend a few days at my place, there is, after all plenty of room. As you can see, Rex turned out to be one hell of a hot guest!
Rex is sleeping close to the Christmas tree with a X-Mas themed blanket covering the lower half of his incredibly hot body. I run my hand up and down his chest to make sure he is sound asleep and I'm surprised at how soft and warm his body feels. Rex doesn't seem fazed at all by my seduction, a good sign to carry on.
I play with his nipples and feel them hardening up under my fingers, hoping something else down south is also getting hard. Yes, indeed he has a huge bulge building up under the covers and I remove them to find myself with my straight guy in long underwear, not that's a challenge! I massage the bulge between his legs and I can tell he is pretty aroused, judging by the pre-cum stain on the cotton fabric of the underwear.
I pull down on them and release his throbbing cock, stroking it and caressing his smooth balls. I actually manage to remove the undergarments and finally have Rex totally naked and ready to play! I stroke and suck that big dick and Rex cums hard! I'm surprised at how far his cum splatters! Several gooey shots of creamy jizz that splatter his chest, arms and even his face, fucking hot!